Thursday, September 30, 2004
Our patch
For those that dont know Bristol is a mid-sized town in the west of England. Although it is an industrial town with factories to its west and a thriving leisure based harbour at its centre it is slightly odd thats its centre is offset to the south west. This means that although I can drive to the 'centre' of Bristol in a little under 10 minutes I actually live surrounded by forest. I think they call this, the best of both worlds.

I have lived in my current house for 2 years and although I mountain bike at least once a week I still have not discovered every trail and track that wind their way through the woodland around me. The trails range from prebuilt singletrack with some obstacles and challenges to trails that have just been carved by use over time. All are in thick forest on very narrow trails, some flat, some undulating and some fabulous downhill into the Avon Gorge below.

The trails dont drain too well and so the winter gets very muddy and boggy which calls for a very different style of riding with lots of power needed in the legs to drive hard through areas of thick mud. It also gets really slippery which means that falls become a regular occurance. I mention this as I arrived home with my buddy Ben last Sunday covered in mud; the autumn is truely upon us. Actually the weather has been so awful this summer that the trails have hardly dried out at all, not a good few months.

Last year saw the opening of the Timberland Trail, a purpose built trail that has interesting parts for most skill levels although I wouldnt recommend the area around 50 acre wood unless you have at least front suspension and are confident on rocky rooty ground. It's about 13k from memory and is good for a hours training.

Just over the Severn Bridge are the biking areas of Cwm Carn and Afan Argoed. They are purpose built trails which drain well and are good for all-weather riding.

Although there is a jump park just up the road and a good trials riding scene here, the whole area is great for XC and tight winding singletrack

So in a tiny nutshell thats our local area. In my next post I'll intoduce some of my biking buddies.


Wednesday, September 29, 2004
The Blog Lives
Welcome, Will this be an interesting blog? No, probably not. If my wife's reaction to my epic mountain bike stories are anything to go by the vast majority of the population should browse on elsewhere...now..go on, go.
When my friends and I return from several hours in the forest, mud from head to toe and account our acts of daring doo (not sure of the spelling); I get, 'thats very nice dear, now strip.' Normally that would be an exciting command but its just so mud doesnt get on the carpet. This blog will simply be an outlet to anyone in the MTB community that cares and understands the shear delight that is doing 25mph downhill on slippy roots with trees in the way.
Thats all. Time to ride.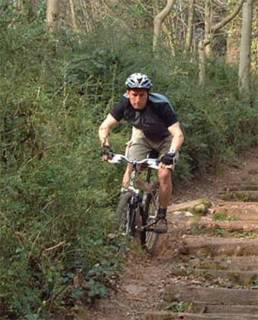 Ben avoiding the steps like a girl!